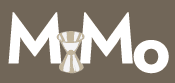 For our second submission to Mixology Monday's smoke theme, I chose to follow Elyn's lead (as I, being no fool, so often do) with a Turkish hookah experience and decided to make apple brandy my base spirit.  This drink was also created to pair nicely with a leisurely smoke of some apple shisha in a hookah, perhaps on a chilly night of the sort we are hoping to get more of here in SC.
I called upon some specific spirits for this recipe to make sure the result didn't stray too far from the intent.  With some lucky input from our close friend, Robert, I give you Newton's Fog:

Newton's Fog
A MxMo recipe for week LXXVII: Smoke!
Ingredients
1-1/2 oz. Laird's Bottled in Bond apple brandy
¾ oz. Batavia Arrack van Oosten
¼ oz. fresh lemon juice
½ oz. Luxardo Amaretto
One dash Laphroaig Cask Strength
One dash Fee Bros. Whiskey Barrel-Aged bitters
Instructions
Combine the first four ingredients in an iced mixing glass and stir calmly. Pour into a rocks glass over a large ice cube and add the dashes of bitters and Laphroaig.
The breakdown:
Of the Laird's apple brandy options that we have here (which we'll talk more about at a later date *wink!*), the Bottled in Bond is the most bold and full-flavored, yet lighter-bodied than bourbon.  It is for that reason I used it here; we'll need something solid to built this complex cocktail on.  The Batavia Arrack brings in some needed spice and smokiness to help later with the bitters.
At after some early experiments, instead of amaretto, I had planned to use John D. Taylor's Velvet falernum to tie up the last of the spice notes and bring the sweet counter to the lemon juice.  It worked well and I was ready to roll with it, but on a lark our friend Robert made the exact same drink with the Luxardo Amaretto instead.  To our surprise, it worked brilliantly.  One sip of the amaretto by itself explained why; whereas most amarettos are just sweet and a little nutty, the Luxardo actually has a sharpness and spice to its profile that took this recipe right where I wanted to go.
As you may have noticed, the smokiest ingredient here is hardly used.  If you've tried Laphroaig, you know that you don't need much of it to turn any recipe into something akin to drinking a campfire.  I love the stuff, and the cask strength is not fooling around.  If you have Laphroaig 10 or 12 year, go ahead and be generous with that dash.  With the cask strength, as I learned at The Gin Joint and their Penicillin cocktail, you don't need much of it before it takes over completely.  The Fee Bros. Whiskey Barrel-Aged bitters is another delicious and smoky addition.
Stirring this drink keeps it smooth and silky, while the apply brandy and Arrack keep it from getting syrupy.  With that large ice chunk slowly opening up the flavors, this is a great one to sip and puff to while watching the cool nights roll in.
EDIT: Bust out that trusty channel knife and take a spiral of a sweet, cold apple and let that float on top of the drink as well.  The juice really lightens up the finish, and makes a tasty snack at the end of the drink.  Thanks for the reminder, Robert!
For more Mixology Monday posts, go here.
For the creator of this month's theme, check out Stir and Strain.
For the full MxMo roundup, slide here!